Handsome Ryan recalled a time when he nearly lost his mother a year ago at his home in Wollongong, south Sydney.
In a touching message shared on Instagram, the former NRL star said if it hadn't been for his sister Carly and father Kym, his mother Robyn wouldn't be here today.
"1 year ago today my mom passed away in her sleep. My dad immediately started CPR and my sister Carly used a defibrillator to bring her back to life," he captioned a photo of Robyn taken from her hospital in January 2021."[Carly] is a trained first responder and without her knowledge and my dad doing CPR, my mom was gone."
READ MORE: Prince Andrew renounces military affiliations and royal patronages
"The trauma alone caused so much heartbreak in our family, but we still have it," Beau added of his mother, who had no pre-existing medical conditions. "I love my mother more than I can explain."
Ryan, who played for the Cronulla Sharks and West Tigers, said his sister has now set up Carly's Helping Hearts, a free program that runs outreach sessions to learn the basics of using CPR and AEDs. (automated external defibrillator) – and he urges fans to sign up.
READ MORE: Woman finds stolen dog after couple's quick thinking
"I urge people to get training and if you can, have a defib on hold," Ryan continued in his post. "It saved my mother's life and for those who know me, my mother means everything to me."
Carly, Regional Director of the Royal Life Saving Society, previously told 9News she was grateful that she kept a spare defibrillator in her car at the time.
READ MORE: The sweet gesture Angelina Jolie still makes for her ex's son
"I ran to the car – it felt like I was running in the open air – and I got the defib," she told 9News in February 2021. "We were all taking action by instinct and adrenaline."
"I'm lucky to still have my mother," she added. "And my father has his wife. My brother has his mother, the children always have their grandmother. [We are] So lucky."
For a daily dose of 9Honey, Subscribe to our newsletter here.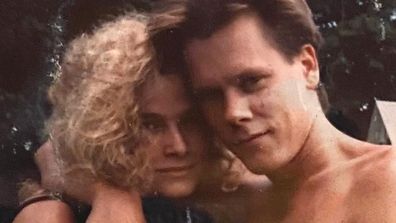 Photos of celebrities: guess who!